Messages from President and School Chair
Ryuhei Wakasugi, President, University of Niigata Prefecture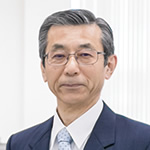 The Graduate School of International Studies and Regional Development was founded in 2015. Aiming to establish a unique base of intelligence, we have been conducting education and research that focus on international society, international relations in East Asia, area studies (in particular, Russia, China, and South Korea), and the economies of East Asia and Japan. The characteristics of our program are influenced by the university's location where Niigata has a close relationship with Russia, China, and South Korea on the Sea of Japan.
The Graduate School is very international and open to the outside. The faculty members have rich experiences in education and research in various countries (e.g., U.S., U.K, China, Taiwan, and Australia) and offer courses both in Japanese and English. Graduate students are also diverse, including undergraduate from the university's undergraduate program, those who came from private companies, local government, overseas, and company executives with rich experience in business.
In addition to grants for scholarship, the graduate school offers small-class education for students under supervision of academic advisors. We expect them to acquire practical skills with a global vision as tough professionals.
1988 Ph.D. in Economics, University of Tokyo
1989 Professor, Department of Economics, Shinshu University
1992-2004 Professor, Department of Economics, Yokohama National University
2004-2010 Professor, Faculty of Economics, Keio University
2006-present Professor Emeritus, Yokohama National University
2007-2012 Professor, Institute of Economic Research, Kyoto University
2012-present Professor Emeritus, Kyoto University
2013-2015 Professor, Department of Economics, Gakushuin University
2015-2017 Professor, Policy Research Center, University of Niigata Prefecture
2017-present President, University of Niigata Prefecture
Yoshinobu Yamamoto, Dean of the Graduate School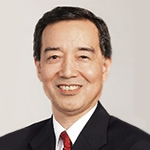 By being rooted the locality, the university has been educating students under a global vision. For these purposes, we have been also seeking to develop global human resources with the capability to not merely conduct research, but also contribute to society. The program is designed so that students can study international society and regional international relations, learn economics, and acquire skills for data and policy analysis. Main courses are taught in English as well as Japanese. We aim to construct a structure under which students can obtain international competitiveness by improving their academic and practical skills.
Thus, we hope that the graduate school contributes to human resource development in not only Niigata, but also Japan as a whole.
1974 Ph.D. in Political Science, University of Michigan
1989-2004 Professor, Graduate School of Arts and Sciences, University of Tokyo
2004- present Professor Emeritus,University of Tokyo
2004-2011 Professor, School of International Politics, Economics and Communication, Aoyama Gakuin University
2011- present Professor Emeritus, Aoyama Gakuin University
2013- present Professor, Policy Research Center, University of Niigata Prefecture
Messages from President and School Chair